The first thing that hit us when testing this mower was that the Scag V-Ride had an incredible amount of power for its small size. Although the V-Ride is clearly trying to be a compact model, the manufacturers have packed enough muscle underneath the hood to make even the full-sized sit down mowers jealous.
The purpose of the Scag V-Ride, as stated by the manufacturer is to combine the space-saving efficiency of the smaller walk-behind models with the comfort and power of the riding models. The V-Ride accomplishes its purpose to a tee, and manages to bring the best of both worlds to one beautiful mower – a feat not easily accomplished even by the top mower manufacturers in the world. 
The V-Ride is essentially a stand-on mower, which means that it is made to be ridden in a standing position while operated. This classification allows it to eliminate the space-sucking, high-perched seating apparatus found in the typical riding mower and cut the total size of the model down to a fraction of what it would be with a seat. In exchange, you actually have to stand up while mowing your lawn. This will probably be good for many of you, if you know what I mean.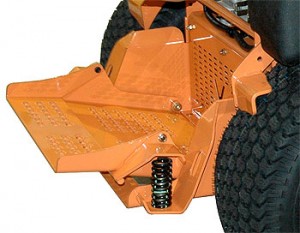 You won't, however, have to walk behind the mower and push it. This stand-on mower allows you to get some exercise but still maintain your standing as the king of the mower, riding atop its carriage, instead of its slave, having to walk behind it and be its power source. The V-Ride features a center of gravity that is as near to the ground as possible in order to provide maximum stability. There is no danger of the machine tipping over no matter how tall or how large you are. This model also comes with giant drive tires that throw in plenty of extra stability just in case.
The platform you will be standing on is mounted on top of a sea of thick springs that will provide you with one of the smoothest rides in the business. This coil suspension platform gives an inch and a quarter of shock-absorbing space that will allow your body the minimum amount of jolts and bumps possible. Your knees and back will thank you. The platform may also be adjusted to as many as twelve unique positions, and you will be sure to find a platform position that fits your riding style and body size like a glove.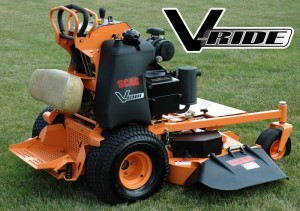 Yes, the V-Ride is essentially a compact mower, but that doesn't mean that it skimps on anything when it comes to the mechanics. The V-Ride features a large amount of mechanical and engine components that are usually only found on huge riding mowers, such as its dual-wheel motor drive system, its dual hydraulic pumps, and its heavy-duty hydraulic oil coolers. These features ensure that your V-Ride will last as long as possible thanks to its gentle operating temperature and well-lubricated operation. Your V-Ride is built on a steel frame that is made from the highest grade materials in order to provide an incredible amount of strength. Scag has done its best to build a compact machine that has all the power and comforts of a full-size mower.
The engines available to the Scag V-Ride are commercial-grade Kawasaki FXs, available in four different power levels between 20 and 29 horsepower. These can be paired up with any one of the four available deck sizes that measure from 36 to 61 inches across in order to provide you with just the right amount of dexterity, muscle, and performance that is needed for your yard.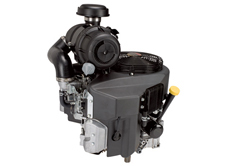 Models with the 61-inch engine have a forward speed of up to eleven miles per hour and a reverse speed of up to six miles per hour. With a 61-inch powerhouse, your yard will be well groomed in no time at all. The smaller motors feature top speeds of around seven or eight miles per hour. All Kawasaki engines come with dual-barrel carburetors and canister air filters to ensure that your machine gives the highest amount of power with the lowest amount of harmful emissions.
Other Scag mower parts include the padded steering levels that will help to eliminate calluses on your fingers and the electric start apparatus that will get you started on the job quickly and effortlessly. The Scag V-Ride comes with a commercial warranty that will have your back for many years of happy mowing. Separate Scag mower parts such as the decks and the spindles come with a warranty of up to three years. All Scag mower parts are made from the highest quality materials, which is why the company is confident in offering their broad warranties.
The Scag V-Ride measures roughly four feet by six feet, but this may vary slightly depending on the size of the deck and the position of the foot plate.