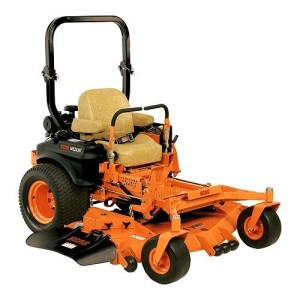 Scag's lawn mowers are notoriously durable and able to withstand years of use in even larger environments, but that reputation requires users to actively maintain their mower throughout the year. Whether it's a simple oil change, using the right kind of fuel, or regularly checking the engine's air filter for debris and excessive residue, regular maintenance will ensure that the Scag mower is fuel efficient, powerful, and providing the most consistent and precise mowing results possible.
Maintenance Should Always Come Second to Safety
Every Scag mower is designed to be exceedingly safe during operation, but maintenance often requires operators putting themselves very close to moving parts, sharp blades, or fluids that are occasionally dangerous if proper safety procedures are not followed. Before getting started with any maintenance checks or replacements, keep a few things in mind:
Mower maintenance should always be performed on a cool or lightly warm engine, rather than a hot engine that can lead to burns and sparked fuel or oil.
Maintenance should be performed in an open space outdoors, rather than in an enclosed storage shed or garage. This reduces the risk of carbon monoxide poisoning, dangers fluid spills, and other dangers.
Only the proper fuel and oil should be used during maintenance. Using unapproved versions of these fluids can damage the engine and put the operator at risk while mowing.
Spark plug wires and battery connectors should always be disconnected before any maintenance work is allowed to proceed.
If a part needs to be replaced, it should only be replaced with an OEM version of that same part manufactured by Scag in its own factories. These parts are safer, more assuredly compatible, and built with a higher degree of quality and precision than competing, off-brand options.
Maintenance: What to Check and When to Check It
Scag mowers are actually rather easy to maintain throughout the year, requiring only a few basic checks and fluid changes based on how often the mower is used and how long each particular mowing task takes from start to finish. The most common checks and considerations will keep things operating smoothly for years, or even decades, to come.
The Air Filter
The Scag mower's air filter should be checked before each outing to ensure that the filter isn't excessively covered with dirt, debris, or residue. If it is, a high-powered puff of air can fix this problem. If the air filter is excessively dirty, or if it shows signs of damage, replace it with an OEM model immediately. Generally, most air filters should also be replaced on at least an annual basis.
Oil Changes and Checks
Oil levels should be checked before each mowing job. If the oil isn't up to the recommended level on the dipstick, the recommended oil type should be added before the mower is started. Oil should be fully changed after every 100 hours of use to ensure that the engine is properly lubricated and working as efficiently as possible.
Fuel Considerations
Any fuel used in the mower should be no more than 15 percent ethanol, rated E85 in the United States. Furthermore, biodiesel fuels should only be used in those models that specifically require or recommend their use. Otherwise, they'll cause significant engine damage. Fuel levels should be checked before each outing, with fuel topped off before beginning. At the end of the season, drain fuel from the mower completely before it is placed into storage.
Need Parts? Try the Online Parts Lookup Tool
Websites like ScagOEMParts.com are determined to help Scag owners make the most of regular maintenance and ensure their mower stands the test of time. That's why ScagOEMParts.com offers an innovative parts lookup tool that makes it easy to find the right part for any maintenance concern. The tool allows for two methods of parts lookup that work with both novice and advanced equipment owners.
For advanced Scag owners, the tool allows for simply entering the Scag model number and the require part number. After a brief search, the perfect part will be returned and it can easily be added to the shopping cart. Those new to the mower can narrow down available parts by engine type, equipment type, and Scag model number, finding all of the available OEM replacements compatible with their specific Scag equipment. Both methods are easy to use and will quickly allow operators to find and secure the parts they need for long-term mower integrity.
For Maintenance Needs and More, Visit ScagOEMParts.com
With a long history of selling Scag mowers and OEM replacement parts, ScagOEMParts.com is an easy choice for existing lawn mower owners. The company's parts lookup tool sweetens the deal, making it easier than ever to find the right air filters, belts, bolts, and other parts that will keep every Scag mower working efficiently for years to come. As always, it's a good idea to browser ScagOEMParts.com's listing of parts ahead of regular maintenance in order to be prepared with any replacement parts that might be needed at a moment's notice before mowing.