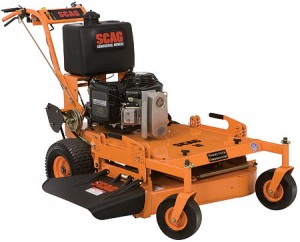 Ever since Scag Power Equipment was founded in 1983, they have established a reputation for themselves. They are known for building quality commercial mowers and have now once again outdone themselves with the Floating Deck Belt-Drive walk-behind mower. This lighter-weight model is priced just right and is a must have, fundamental piece of machinery for every commercial cutter fleet. Essentially designed for entry-level use at a commercial level, it has a four speed transmission with a nine splines coupler that enhances durability. The unit is equipped with a strong 16hp Vanguard engine that can achieve speeds of up to 6mph for maximum productivity. The cutting height adjustment is quick and easy to use. Some other features include: 
• It has strong construction for sustained use.
• Blade drive spindles that are essentially maintenance free (the shaft is also heavy duty, made of cast aluminum, and the ball bearings are sealed).
• Shifting gears is simple with the padded shift lever.
• It has an Ogura PTO clutch brake with air-gap to ensure component longevity.
• The discharge chute is flexible and does not dent like metal.
• It has cutter deck options of 36 inches and 48 inches.
• Belts are single power, providing solid power to each wheel.
• Marbain blades stay sharp for longer durations and reduce maintenance.
The dash panel places controls within easy reach at the fingertips of the operator. The key switch, throttle, and cutter deck engagement switch are all located here. If one chooses the hour meter, an optional accessory also fits here. The handle bars are constructed of heavy gauge material and can be adjusted according to personal requirements. This allows for maximum comfort as they have three height settings to accommodate operators of all sizes. Handle bars are ergonomic, allowing for the maximum level of comfortable operation. The angle of the steering lever can be adjusted and the diameter has also been reduced. Due to the twin hand controls, there is very precise and quick reaction. The large rust-free fuel tank is 20% larger than tanks on most mowers of other brands; this allows for uninterrupted operation without having to make frequent refueling stops and wasting valuable time. This also enables the biggest jobs to be completed in the shortest span of time. A really handy accessory is the built-in cup holder that provides greater operator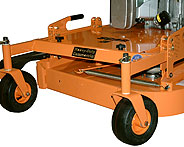 convenience and comfort. The frame is quite sturdy and made so it can withstand the toughest of environments. The wheels, too, are heavy duty designed with a pin removal system that makes changing quick and easy.
There are a number of well thought-out accessories for the SFW walk-behind that can help to save time. The GC-4D Grass Catcher is a four cubic foot metal collector. It has the option of being dumped by just tugging on a rope straight from the seating position of the operator or it may be removed and dumped. There is also a light weight GC-F4 catcher with a four cubic foot capacity. This is a fabric collection bag that is easy to handle due to the material it is made from. It is also convenient to store as it collapses to take the minimum amount of space. The Mulching Plate is a convenient tool that allows the operator to switch from side dispersal to mulching right in the middle of a job. The cutter decks of Scag are extra deep, which helps to keep the cuttings underneath allowing for fine shredding. The semi-pneumatic Caster Tire does not go flat, which reduces downtime that can result due to flats. Another good accessory is the hour meter that can be installed within minutes. Simply remove the "knock-out" on the dash and plug in the meter to the pre-existing harness. With the hour meter installed, there is no missing of scheduled maintenance. The Blade Buddy allows the cutter blades to be removed safely and quickly; it secures the blade, thus preventing its accidental rotation when a change is required.
A lawn mower is an expensive investment for a business; hence, buying a mower that is built to last should be the first priority. Additionally, the construction of the machine should be sound so that the minimum amount is spent in repairs and the maximum amount of time is used to earn money. Scag mowers meet these criteria perfectly.
To see the latest specials and financing options, make sure to visit a Scag dealer near you. You can also purchase a variety of genuine Scag Parts online at www.ScagOEMparts.com.