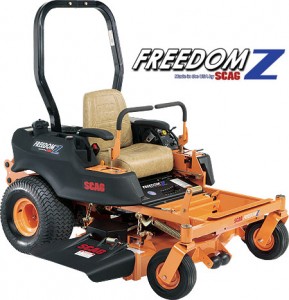 When the fields stretch out endlessly in front of you, and it feels like you'll be spending your entire day behind the wheel of a mower, reducing your work load with a Scag Freedom Z Riding Mower can make that bitter pill taste just a bit sweeter. Scag produces seven different Freedom Z mower decks in different horsepower levels to accommodate just about any landscape. Kawasaki and Briggs and Stratton engines power the Freedom Z mowers at up to eight miles per hour in forward gear and five miles per hour in reverse. 
Scag Mowers are constructed with a fully welded steel frame as opposed to a bolted or a stamped frame. This provides for a stronger, more durable machine that can stand up to years of abuse. Scag puts forth every effort to make the ride as comfortable as possible on their riding mowers, using vibration-dampening rubber bushings on the foot plate, as well as an easy-to-reach operator instrument panel. For operator protection, you'll find that all Scag Mowers are equipped with Scag's rollover protection system and retractable operator safety belt.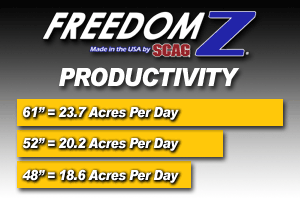 There are two Kawasaki V-twin engines that are available for the Scag Freedom Z mowers. The smaller of the two is a 17 horsepower model that powers the 48-inch deck model, and a 20-horsepower V-twin engine powers both a 48-inch and 52-inch model. The Kawasaki engines are backed with dual Hydro-Gear ZT3100 transaxles, one per drive wheel. Affording the operator exceptional power delivery and spot-on maneuverability, these transaxles feature independent cooling fans on each unit as well as spin-on oil filters to ensure unmatched reliability.
Briggs and Stratton engines power the remainder of the Scag mowers in the Freedom Z lineup, all of which are V-twin engines. Power output levels for the Briggs and Stratton engines are 20, 26 and 28 horsepower, with the 28 horsepower V-twin engine being utilized exclusively on the largest Scag Freedom Z rider, a 61-inch field-taming beast. The largest also receives its own set of transaxles, a dual Hydro-Gear ZT-3400 transmission that readily handles the increased size and weight of Scag's largest Freedom Z.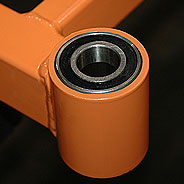 Maintaining Scag's line of Freedom Z Mowers is a breeze thanks to the engine and transaxle spin-on filters, as well as the lack of grease points on the mower. This utilization of sealed bearings can be seen throughout the mower. The use of these sealed components, the spindles as well as the bearings, allows you to simply hose off your mower when you're done with it, and periodically change the lubricating fluids in the engine and transaxles to keep your mower running and cutting like new. When the time does come for periodic maintenance, the Scag Freedom Z mowers utilize an easy-to-reach oil drain that makes the job even easier than it is on your car.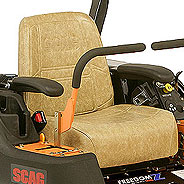 In the cockpit of the Freedom Z, the operator has every control close at hand without feeling cramped. A thickly padded, adjustable seat has arm rests and a retractable seat belt. The control levers use gas-charged dampers that prevent jarring, smoothing out the ride and making the task far more comfortable. Additional amenities include a cup holder with a storage bin that is easily accessible without having to reach too far. The primary controls for the mower are all easily accessible, as well, including an integrated parking brake, a foot pedal cutting deck lifter, and intuitive electrical controls that are easily within reach without leaning forward in the operator's seat.
One of the centerpieces of the Scag Freedom Z mower series is its PTO clutch brake that makes blade engagement far smoother than with competing ride on mowers. This system utilizes a solid forged rotor, high temperature grease for long life and limited need for maintenance. The PTO clutch also uses an adjustable air gap that can be adjusted by your Scag dealer. This increases the overall life of the PTO clutch, allowing you to have the tolerances tightened on the clutch as it wears out rather than having to replace the clutch, as you would have to do on other brand mowers.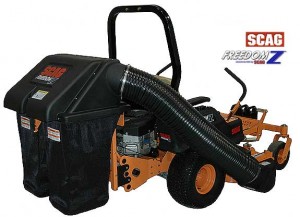 There are a number of accessories available for the Scag Freedom Z line of riding mowers, including grass collection systems, halogen light kits, mulching systems and a trailer hitch. For operators fond of the look of a nicely striped field, whether it be a playing field or just your own backyard, Scag offers the Tiger Striper lawn striping system. This accessory tool mounts onto the back of your Freedom Z mower behind the drive wheels, enhancing the appearance of the stripe on the lawn.
High quality construction combined with effortless operation make Scag mowers some of the very best in the industry. Residential owners are protected with a three year limited warranty, while commercial users get access to a one year limited warranty.
To see the latest specials and financing options, make sure to visit a Scag dealer near you. You can also purchase a variety of genuine Scag Parts online at www.ScagOEMparts.com.