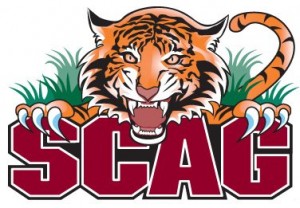 Scag power equipment was founded in 1983 as a division of Metalcraft of Mayville Inc. Based in Mayville, Wisconsin, Scag offers people genuine American equipment that is made in the USA. It all started with a single model, but has grown to more than fifty different models of power equipment. Scag mowers are built to last, designed to be easy to use and crafted with pride. When your mower needs a replacement part, it's important that you choose genuine Scag parts over generic replacement parts. 
Proudly Privately Owned
Scag is a privately owned company. This means that they can focus on what they specialize in and are never forced to expand into divisions that they are less passionate about. The teams of highly trained professionals working at Scag only focuses on building mowers that are riders, stand-ons, walk-behinds and front mounts. The same pride of ownership and dedication that goes into building the original machines also goes into crafting the replacement parts. The competition offering generic parts can't say that.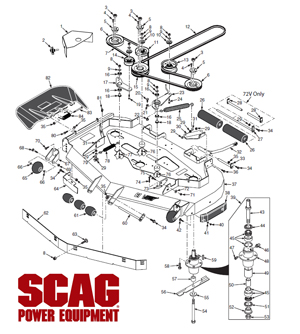 Guaranteed to Fit
No one can design a part to fit like the original manufacturer. The mower you have in your garage that needs a new belt should be outfitted with one that fits perfectly. Only the company that made the original mower can provide you with a belt that will meet the exact specifications of your unit. The generic versions may come close, but it won't deliver the performance that you expect from genuine Scag parts.
Experience
Scag has more than 25 years of experience in crafting high quality mowers. They know what works, they know what doesn't and they know how to build the highest quality parts. This dedication is applied to every item rolling off the line from a fully assembled mower to the spindles that need to be replaced every few years. The generic competitors don't share Scag's level of experience. This is especially true when the part is being produced by a company that doesn't normally make lawnmowers.
Improvements
Scag is dedicated to building the highest quality units they can. This commitment involves listening to the consumer and making necessary improvements. Every new mower that rolls off the line has some feature that makes it a little better, more effective or easier to use. There are times when those improvements can be worked into the replacement parts for older mowers. Buy a generic item from overseas and you will get something that may or may not work right and won't be the same high quality. Choose a Scag replacement part and you receive an item that meets or even exceeds the quality of the original.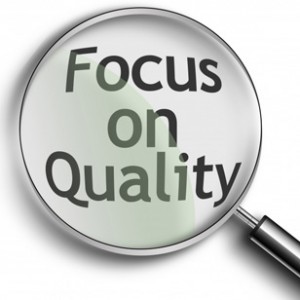 Quality
There is no power equipment company offering higher quality than Scag. The company uses state-of-the-art laser cutting machines, punches, brakes, presses, robotic and certified manual welders to create products and parts that are the best. Every mower component is crafted to the highest standards and every replacement part is held to those same, incredible standards. Every Scag belt that leaves the plant is constructed with Kevlar cords to prevent stretching and ensure a long life. The competition uses cheap rubber and doesn't bother with reinforcements at all. Cutter deck spindles from Scag feature cast iron housings for strength and they are fully greasable, two features you simply will not find in generic parts. Choose a Scag and you know that the piece will last for years to come. Choose a generic piece and you can consider yourself lucky to get a season from it.
Value
Scag parts are built to last. While the original price may be higher than the price on that no-name, generic item shipped in from another continent, the Scag part will last longer. You can plan on having to replace that generic part again in one or two seasons, but the Scag part will continue performing for years to come. In the long run, the Scag parts will save you a great deal of money.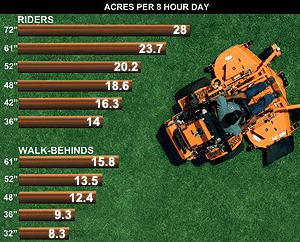 Performance
Your mower is a very precise tool. Everything needs to work together and it all needs to work right. The details are truly what matters to top performance. You bought a Scag for the power and ease of use. Choosing replacement parts made by Scag specifically for your mower will preserve that power and ensure that you continue to enjoy superior performance. Start popping generic parts in that aren't built to the same standards and you will probably experience a reduction in power and performance.
When you buy a Scag, you are buying a mower that will last for years. Whether you are cutting your own acre of land or have a professional landscaping service, Scag mowers will help you keep the lawn gorgeous season after season. The best way to keep your mower running at peak efficiency and providing you with maximum power is to choose genuine Scag parts. No other product will provide you with the performance, quality or power that you demand from your Scag mower.