For years, Scag mowers have held a reputation for innovation and attention to quality. Scag offers commercial mowers in several models, each having its own distinct features and specifications. Understanding the subtle differences among these products can save you time and money when selecting the best Scag mower for your needs.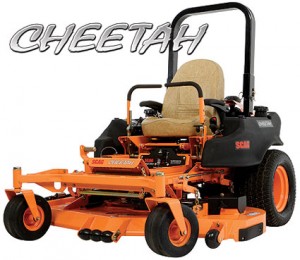 Cheetah
The cheetah is the fastest and most comfortable mower available in the Scag lineup. With speeds up to 16mph, it offers a high-quality suspension system and two-speed, zero-turn capabilities. Engine options range from 31hp to 34hp, and includes dual fuel tanks holding up to 15 gallons. The cutter deck is 61″ or 72″ Velocity plus and the cutter deck lift system is operated by an adjustable foot pedal. This machine has a steel main frame, heavy duty blade drive spindles and offers an operator friendly instrument panel.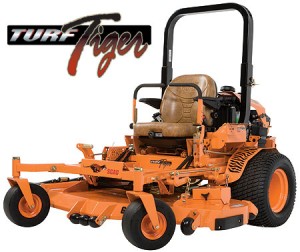 TurfTiger
Also a zero-turn machine, the TurfTiger is productive at 12mph ground speed (for 29hp+ models) with a 10 gallon fuel tank. This model boasts minimal maintenance requirements with a trouble-free shaft drive cutter deck. Cutter deck is available in 52″, 61″ or 72″ Velocity Plus that is operated with a foot pedal. Engines range from 27hp to 35hp and an aluminized exhaust system provides reduced fuel consumption, anti-backfire and reduced noise for a more pleasant mowing experience.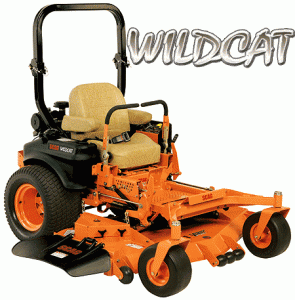 WildCat
The WildCat zero-turn Scag mower is built with compact maneuverability, but offers full-size performance. Engines ranging from 25hp to 27hp are air and liquid cooled, and a low center of gravity coupled with wide drive tires offer uncompromised stability. The WildCat offers dual 4-gallon fuel tanks, up to 10mph ground speed and an auxiliary hydraulic oil cooler. Velocity Plus cutter deck is available in 48″, 52″ or 61″.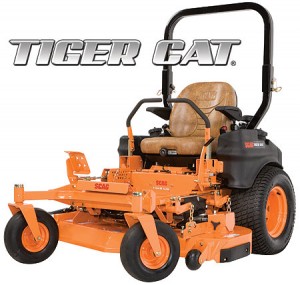 Tiger Cat
The Scag Tiger Cat can easily handle more than 24 acres a day. This model boasts stability with a low center of gravity, zero-turn maneuverability, engine options from 22ph to 27hp and a durable steel frame. 48″, 52″ or 61″ Velocity Plus cutter decks are available and an aluminized exhaust system cuts down on noise, backfire and fuel consumption. This model also comes with dual 4-gallon fuel tanks, an operator friendly instrument panel and boasts up to 10mph ground speed for more productivity.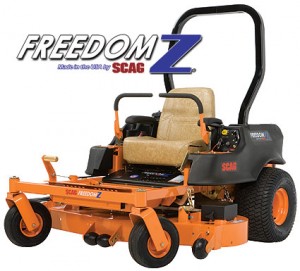 Freedom Z
The Freedom Z, zero-point mower is a high-performance mower designed for commercial and large estate use. With speeds up to 8mph and a 7-gallon fuel capacity, this model can cut your mowing time in half. Designed for comfort and durability, it offers a steel main frame, heavy-duty blade drive spindles, a dual hydraulic transmission drive system, and no grease points, making for a maintenance-free machine. Engine options range from 18hp to 28hp and cutter decks are 36″, 48″, 52″ or 61″.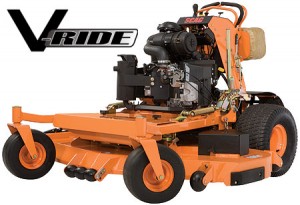 V-Ride
The Scag V-Ride is a stand-on mower that combines speed and comfort in a compact design. This model offers full-sized features like hydraulic oil coolers, coil-suspension platform, steel main frame, dual hydraulic pump, dual wheel motor drive system and Velocity Plus cutter decks available in 36″ Advantage, 48″, 52″ or 61″. Engine options include 20hp, 24hp, 26hp or 29hp Kawasaki FX engines and this model boasts up to 11mph ground speed. Electric start with quick-adjust cutting heights and 12 mounting positions for the operator platform make this model a pleasure to use.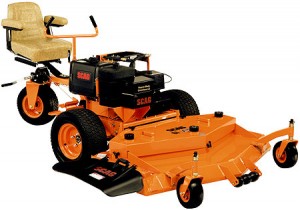 STHM – Three-Wheel Riding Mower
The Scag STHM is a three-wheel rider that offers durability and maximum stability and maneuverability. This model comes with a hydrostatic drive system which is reliable and proven to last longer than other transaxle drives on the market today. The STHM has a 5-gallon fuel capacity and moves at speeds of up to 7mph. Heavy duty design, 23hp Kohler Command engine and 61″ Velocity Plus or 72″ Advantage cutter decks make this rider a serious mowing machine.