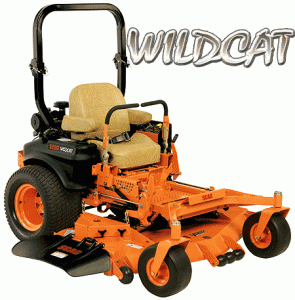 The Scag Wildcat is a powerful mower that offers big productivity in a smaller package. Compact and maneuverable, it manages to put forward such full-sized features as dual 10cc hydraulic pumps, hydraulic oil coolers and a full length and fully welded unitized tubular steel main frame. With its low center of gravity, the Wildcat promises to be durable, easy to use, intuitive and a load of fun!
The Wildcat has an adjustable Velocity Plus deck, allowing in-the-field deck leveling adjustments. It will cut fine grass, tough weeds and everything in between. It also reduces stringers, pretty much eliminating the need for double cutting. With options of 48", 52" or 61" decks, the Wildcat comes with unmatched power, guaranteeing precision work on a clean cut to the crispest stripe, always with professional results. 
At faster ground speeds, the cutting chamber and wider discharge opening will provide high quality clipping dispersal. The deck's blade spindles and construction will always give long life and unequalled results. An easily replaceable trim-side wear pad protects the deck from damage while a variety of cutter blade styles assure specific cutting conditions and needs.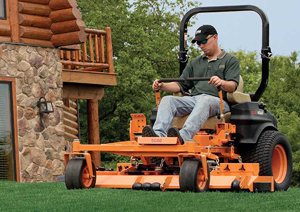 Harnessing 10 mph forward speeds and 4.5 mph in reverse, productivity is maximized with the Wildcat's 25 hp to 27 hp  Kawasaki Engines. Twin cylinders and a vertical shaft lend to a quiet, powerful engine, that operates effortlessly with solid torque. All that one should expect from a Kawasaki Engine.
For precision responsiveness, there are twin level steering controls with dual dampeners. To increase comfort, they can be adjusted to fit a wide range of operator sizes.
Thanks to the Dual Hydro-Gear BDP-10A (100cc) hydraulic pumps with input speeds starting at 1,800 rpm and maxing out at 3,600 rpm supplying power to the flat free, semi-pneumatic 6-inch wide caster wheels, every ride is level and reliable. The built-in pressure valves reduce internal pressure spikes, adding life to the engine. Those 13 x 6 caster tires present better traction, decreased turf tearing and easy curb climbing. With larger, angled filler necks, the dual 4-gallon fuel tanks are ready for a quick filling so that more time is spent dealing with the business of cutting grass.
A key component to maintaining the hydraulic system is keeping oil temperatures within a safe operating level. Leak free and 100% pressure tested, the Wildcat's auxiliary hydraulic oil cooling system is efficient and leaves a small footprint. With its rugged design, the system promises high heat removal and a resourceful oil flow rate.
With its 12V battery, the Scag Wildcat is easy to function. Its operator friendly control panel consists of an ammeter, ignition switch, mower engagement switch, choke and throttle controls, fuses (with a sealed fuse block) and a digital hour meter to record actual engine running time and give built-in maintenance reminders, such as oil changes.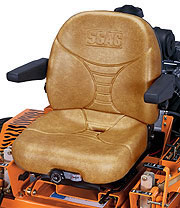 Providing a superior level of operator comfort, the Soft Ride Seat comes standard on the mower. The cushions have extra thick padding. This, along with the torsion spring suspension under the seat, ensures bumps and jolts are routinely absorbed. The back of the seat has increased lower back and lumbar support that provides additional support if riding on uneven terrain. With fully padded, adjustable armrests and the option to move the seat forward and backward to accommodate operator preferences, this vehicle takes luxury to the next level. Knowing that, the operator can now enjoy a drink via the built-in cup holder.
With such features built directly into the design as roll bars, dead man switches and protective covers on moving parts, safety is number one with this manufacturer. If there is little or no weight in the seat, a switch beneath it shuts the mower's engine down. So a step as simple as getting up can prevent an accident.
There are many, many other features that make the Wildcat the mower of choice:
• Ogura clutch brake capable of handling 250 lbs. of torque
• Interlocked parking brake
• Adjustable cutting heights
• "Split Steel" pulleys, stronger than cast iron or stamped designs
• High quality bearings and bearing debris guards
• Auxiliary canister air filter system
• The Scag "Simply the Best" commercial warranty
The parts are easily replaceable. The manual is careful to name and number all parts of the Wildcat. Look for one of the more than reputable, licensed equipment dealers ready to professionally service the Wildcat.
If in the market for a different kind of commercial mower, be sure to take a look at the Wildcat. At the end of the day, the Scag Wildcat is the compact, powerful mower for those that do not have the space for a full sized mower.
To see the latest specials and financing options, make sure to visit a Scag dealer near you. You can also purchase a variety of genuine Scag Parts online at www.ScagOEMparts.com.